Last Updated: Aug 22, 2023
In the digital age, the way businesses communicate has undergone a drastic transformation. From traditional phone systems to cloud-based solutions, technology has pushed boundaries to improve efficiency and productivity. Embracing these advancements is paramount for businesses, and the combination of Zoom Phone and monday.com Sales CRM could be a game-changer.
By 2025, the global cloud-based PBX market is expected to reach $14.91 billion, illustrating the importance of integrating advanced communication solutions. Highlighting this trend is Zoom Phone, a cloud-based calling platform that seamlessly integrates with Zoom's suite of communication tools, bringing voice calls effortlessly across devices.
On the other side of this innovation spectrum is monday.com Sales CRM, a powerful tool that scores highly for its ability to help businesses manage and automate tasks, boasting an enviable Editor's score of 95/100 according to businessnewsdaily.
In the following sections, we delve into the specifics of these two applications, the benefits they deliver separately and the unmistakable advantage they provide when integrated. Stay tuned as we take you through the intricacies of Zoom phones for business and the monday.com CRM IP phone integration.
Zoom Phone - popular PBX solution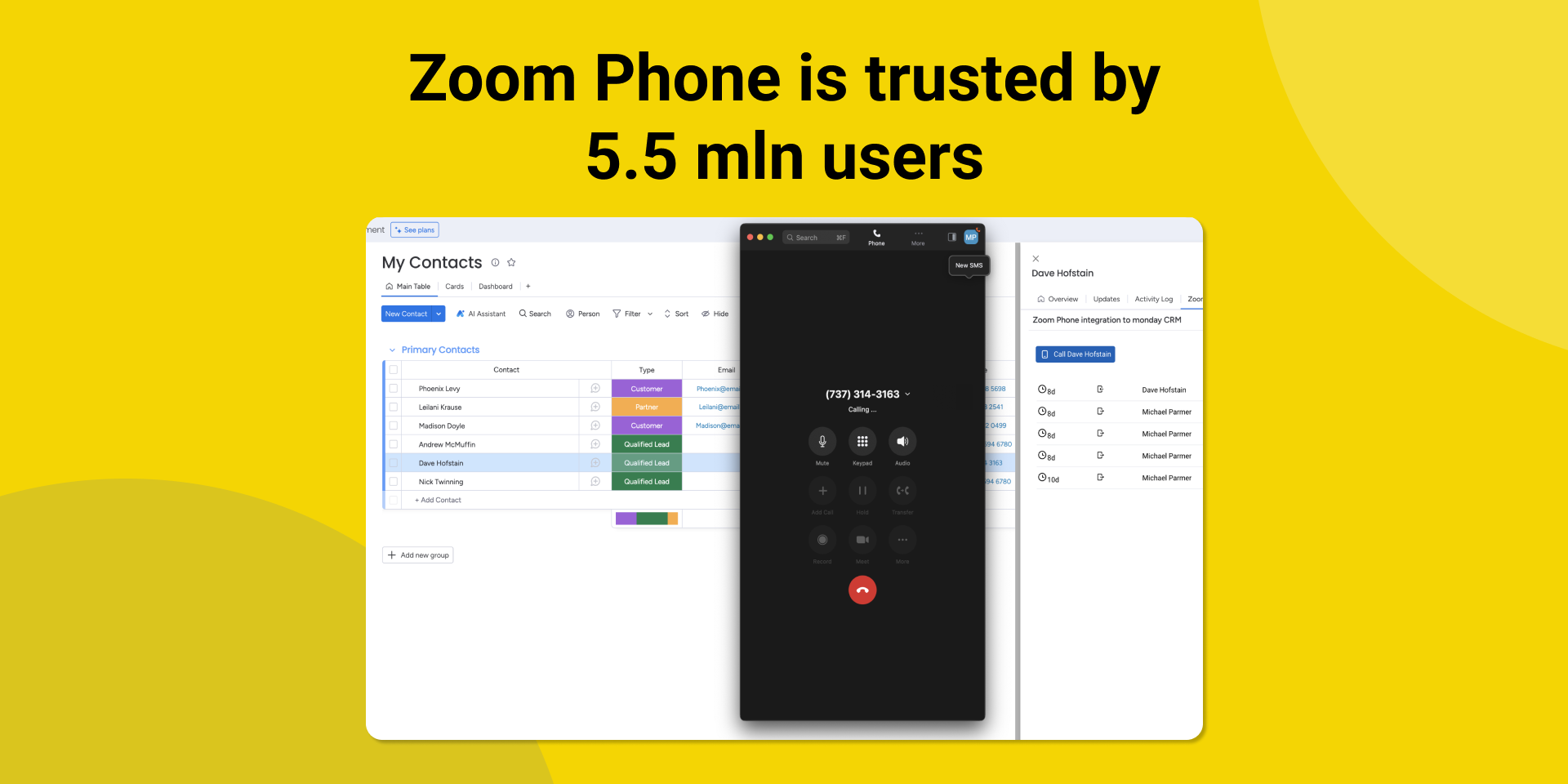 Zoom Phone stands as a cherished innovation in the sphere of business communication, offering a host of features that swiftly established it as a trusted calling platform.
Zoom Phones for Business
The highlight of Zoom Phones rests in its exceptional compatibility with other Zoom tools. The platform does more than just facilitate calls - it's designed with comprehensive utilization in mind. From seamless transfers of calls across different devices to the transformation of voice call to video conference calls without interruption, Zoom Phone offers a smooth experience.
One study shows that businesses could see a 20-30% increase in employee productivity with unified communications like Zoom. These figures underline the invaluable role that integrated platforms like Zoom Phone can play in the business environment.
Cloud-based Calling Solution
Apart from its interoperability, Zoom Phone stands out due to its operational principle. Unlike conventional calling platforms, it's a cloud-based solution, making rapid VoIP calling possible when you need to get in touch with someone pronto. And the best part? It uses internet data, meaning all you need is a stable internet connection via broadband or a mobile data plan to get started.
Secure and Reliable Features
Zoom Phone is designed with security at its core. It utilizes standards-based SIP over TLS 1.2 and Advanced Encryption Standard (AES) 256-bit GCM for all calls, ensuring secure voice calls across all supported devices. In 2021, about 70% of surveyed companies cited "secure voice calls" as a main benefit of VoIP, which is a key advantage of Zoom Phone's approach to security.
Traditional PBX Attributes
Zoom Phone doesn't let go of the past completely; it integrates traditional PBX features to facilitate employee interactions in innovative ways to keep businesses progressing. Voicemail functionality, call history, and an easy-to-use centralized administration portal help manage users and monitor business interactions intelligently.
From an enterprise perspective, the conversion to a cloud phone system such as Zoom Phone over a traditional on-premises PBX system offers predictable rate plans, reduced equipment costs, no requirement for IT expertise, easy integration with third-party software, and the ability to make calls from any device, all serving to make this a compelling option.
Pricing Options
Last but not least, Zoom Phone makes affordability one of its prime features. With scalable enterprise phone plans starting from just $10 per user per month, it fits any need and budget. You can choose from metered, unrestricted, and Pro Global Select plans based on your unique needs, making bottom line savings a clear benefit.
monday.com Sales CRM and IP phone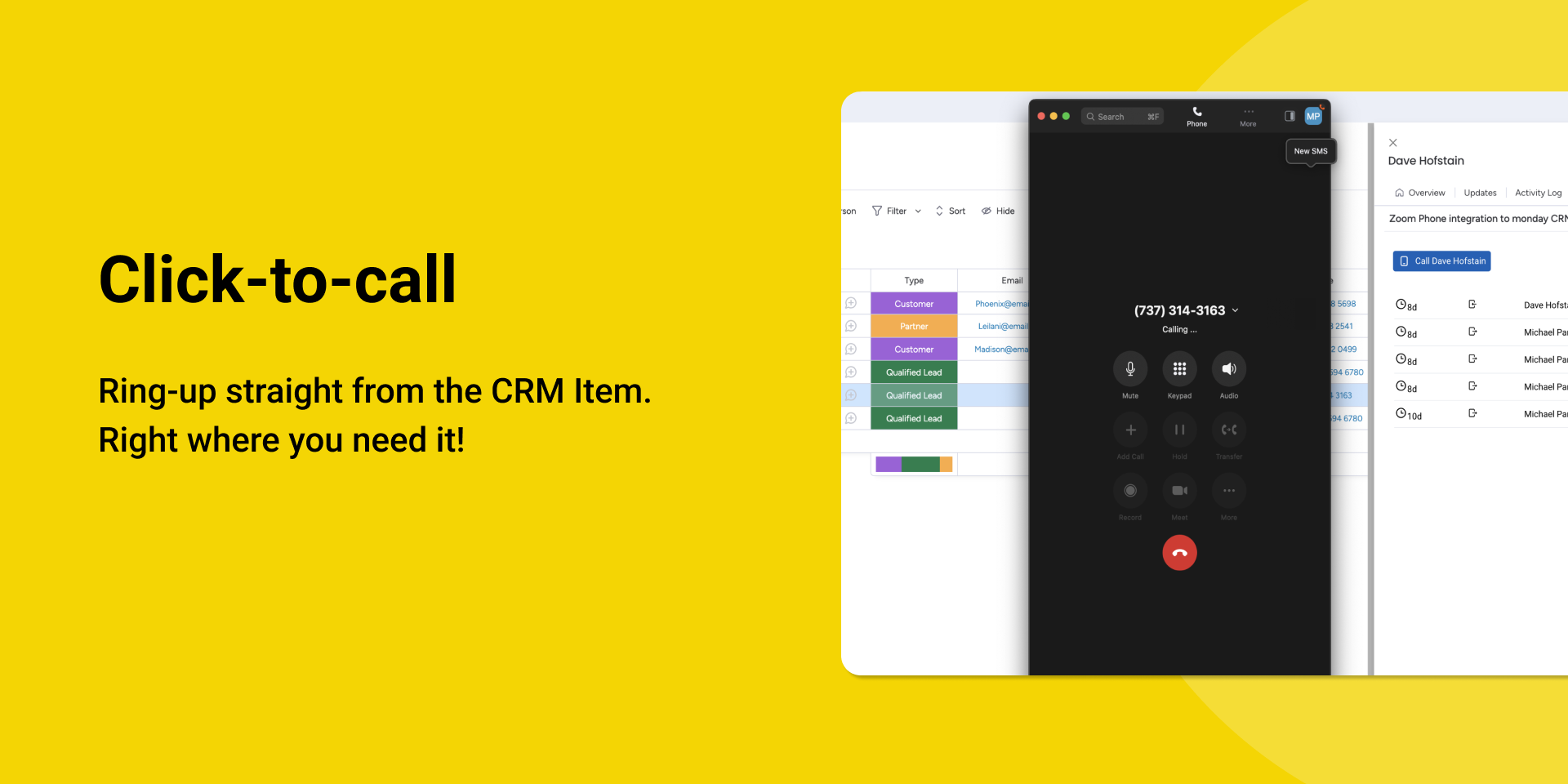 monday.com Sales CRM is applauded for its extraordinary ability to streamline and automate tasks, positioning itself as one of the go-to choices for businesses of any size. A testament to that is the spectacular Editor's Score of 95/100 accorded by Business News Daily.
Functionality and Purpose
Developed with the modern business in mind, monday sales CRM allows you to collect and score leads from any source. The platform is easy to use, making it possible for anyone regardless of technical proficiency to build timesaving automation designed to cut down on repetitive and manual tasks.
Given the importance of timely and effective support in any organization, every one of the five available monday sales CRM plans come armed with 24/7 customer support, ensuring you're never stuck for answers.
Key Features and Automation Capabilities
The standout attributes of monday sales CRM is its ability to harness the potential of unlimited boards to organize projects, clients, and processes. The timesaving automations are not just efficient, but exceptionally easy to build and deploy. However, it's noteworthy that these automations are subject to a set limitation of actions per month.
Another impressive feature is the security measures offered for data handling with the Enterprise plan complying with the Health Insurance Portability and Accountability Act of 1996 (HIPAA).
Review, Pros, and Cons
While acclaimed for its robust features and ease of use, it is important to note that all paid plans come with a three-seat minimum, which might not be ideal for very small teams. Furthermore, the HIPAA compliance and some high-level security features are only exclusive to the Enterprise plan.
However, despite these minor points, the general consensus is positive, with a high score on professional reviews and widespread user satisfaction.
The integration of monday sales CRM with VoIP (Voice over IP) and IP phone systems is where it truly shines, offering seamless connection to extend the CRM's capabilities. In the next section, we'll delve into this integration, particularly focusing on the synergy of monday sales CRM and Zoom phones for business.
Integrating Zoom Phone mobile phone into monday Sales CRM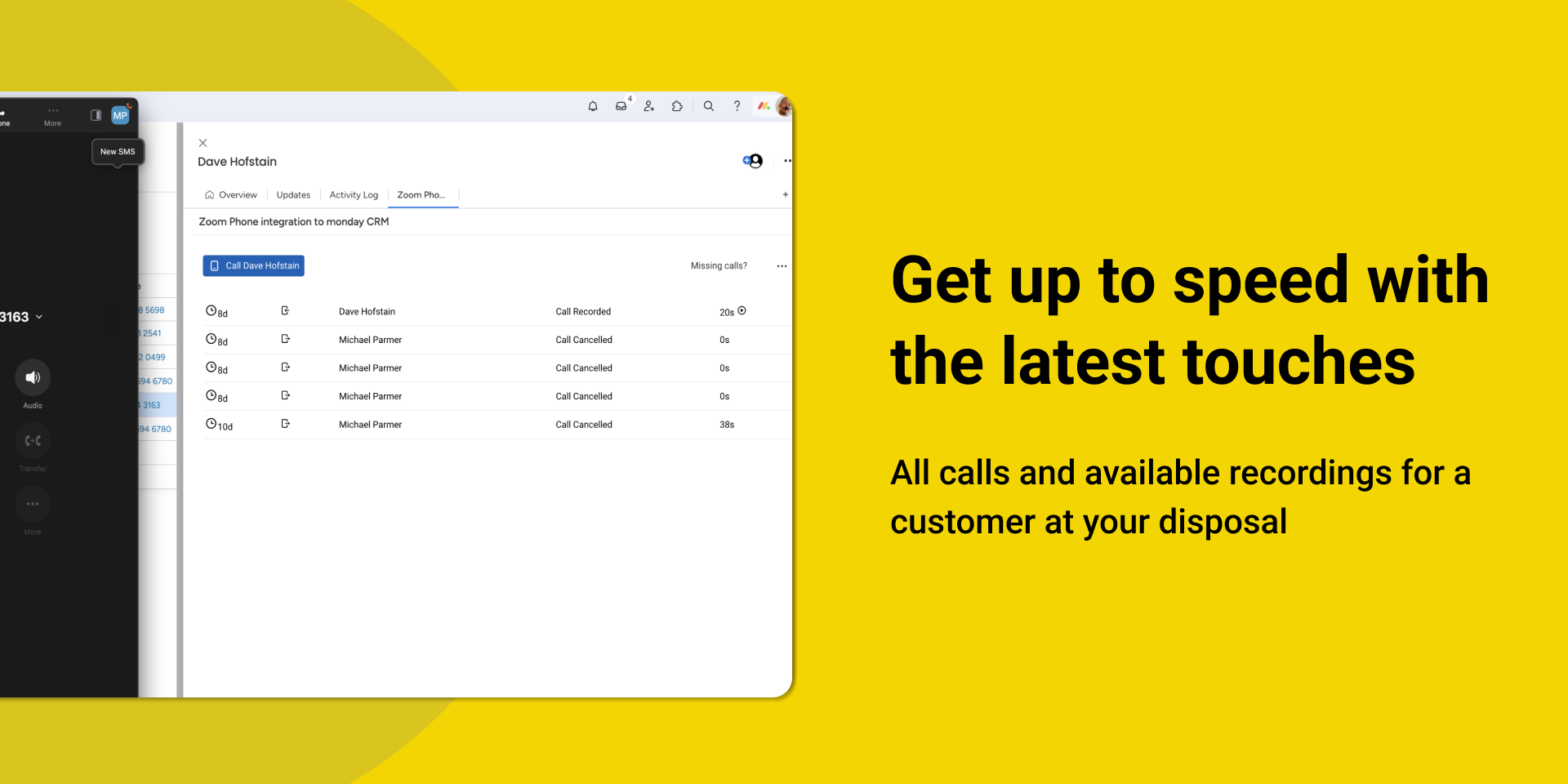 Integrated digital solutions have emerged as the cornerstone of effective and efficient business operations. Linking a cloud-based PBX solution like Zoom Phone into a robust CRM platform such as monday.com can drive a multitude of benefits. This integration not only enhances communication and collaboration but also delivers significant cost savings and strengthened security.
Improved Communication and Collaboration: Seamless integration of Zoom Phone and monday.com can lead to improved collaboration within teams. Retrieving the recordings of voice calls just before the interaction with the customer, automating the CRM status change, all calls and SMS logs, and making calls directly from the CRM system all contribute to enriched communication experiences. These capabilities streamline efforts, cut the lag in collaboration, and pave the way for an efficient workspace where anyone can quickly call any contact from any item within monday.com.
Cost-effectiveness: Adopting cloud-based business phone services adds up to a smart financial decision with competitive and predictable pricing plans for any business size. According to a (source study), businesses transitioning from a traditional PBX system to a cloud-based phone solution can expect to see an average cost reduction of up to 50% on their communication expenditure.
Enhanced Security: Zoom Phone employs standards-based SIP over TLS 1.2 and Advanced Encryption Standard (AES) 256-bit GCM for calling. The integration of Zoom Phone with monday.com also adheres to these security standards, ensuring trusted and secure communication across devices.
Scalability and Easy Deployment: With Zoom Phone PBX, scaling your company is as straightforward as adding new users to your system. A traditional PBX system might require purchasing, installing, and configuring expensive new hardware. In contrast, a cloud-based solution enables business growth with its capacity to scale swiftly and deploy rapidly.
Real-time Synchronization and Accessibility: With every call made or received, the call history synchronizes instantly. Access to call recordings right from the item view allows easy recaps of the context when necessary, positively impacting overall decision-making efficiency.
The integration of PBX and CRM represents a merge between communication and customer relationship management, proposing a promising synergy for businesses ready to optimize their operational efficiency.
Zoom Phone and monday.com CRM Integration via Get Report Solution
The Get Report solution establishes a seamless bridge between Zoom Phone and monday.com CRM, bolstering the synergies of these two powerful tools. Now, let's delve into specifics, unpacking the mounting benefits an integration like this provides to businesses:
Quick Dialing and Instant Sync
Never miss crucial customer details again because the integration lets you dial directly from any item inside monday.com. A single tap is all it takes:
A robust cloud-based phone system previously trusted by 5.5 million users is now at your fingertips.
All calls registered for each CRM item from your organization's Zoom phone seats are available.
Call history is synchronized with each call, providing an accurate trace of your interactions.
Enhanced Collaboration
Integrating Zoom Phone with monday.com CRM unearths possibilities for enhanced collaboration and better communication management:
The ability to retrieve recordings of calls directly from the Item view enables you to revisit the context instantly. This means that critical information from past interactions gets preserved and is easily accessible.
The comprehensive automation capability translates into streamlined workflows, eliminating repetitive tasks and enhancing productivity.
Automating the CRM status change based on call or SMS logs helps keep everyone in the loop.
Enriched Communication Experiences
Finally, the fusion of these two platforms testifies to the potential of enriched communication experiences:
Making calls directly from monday.com CRM enhances the communication efficiency, ensuring that instruction is passed across swiftly and that user experiences are not disrupted.
The IP phone integration with CRM offers a more profound insight into the customer, offering detailed contact records that your team can efficiently work with to ensure seamless customer service.
By integrating Zoom Phone and monday.com CRM via the Get Report solution, businesses stand to gain a holistic view of their customer interactions, making unified communication a reality.
Or 📅 schedule a free demo so we can help you understand if you really need this solution.
Further elevate your monday Sales CRM setup with these productivity tools
While Zoom Phone and monday.com CRM integration provides a solid foundation for seamless communication in your business, two additional tools from Get Report could further elevate your CRM setup.
The World Clock & Timezone Converter eliminates guessing the appropriate time for calls across different time zones. It offers real-time displays, quick timezone conversion, smooth integration with your platforms, and customization opportunities. With adaptable themes and time display flexibility, coordinating your international team becomes effortless.
Then, Copilot: GPT Chat for monday.com enhances collaboration and ensures privacy. This tool introduces project-based groups, automated obfuscation of sensitive data, and unified billing. Plus, it grants access to the next generation of beneficial AI capabilities without compromising data security.
Both tools, integrated with monday.com CRM and Zoom Phone, result in a highly efficient, fully augmented system empowering businesses of all sizes.